Guarantee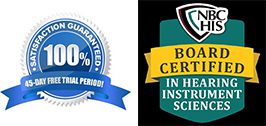 At Certified Hearing Aid Care, we want you to be completely satisfied!
Purchasing a hearing aid is an important decision, and we understand that wearing one for just a day or even a week or two cannot always be a valid indicator if the device you've chosen is a perfect fit for you.
That's why we offer a 45-day trial period with a 100% satisfaction guarantee! After your complimentary hearing evaluation to determine your degree of hearing loss, we will prescribe the hearing aids that fit your lifestyle, budget and insurance coverage. You will then have the opportunity to try your new hearing aids for 45-days. Should you decide to keep your hearing aids, you will be billed at that time. If you decide they are not right for you, we will take them back and work with you to select another device. There are no restocking fees and no return penalties.